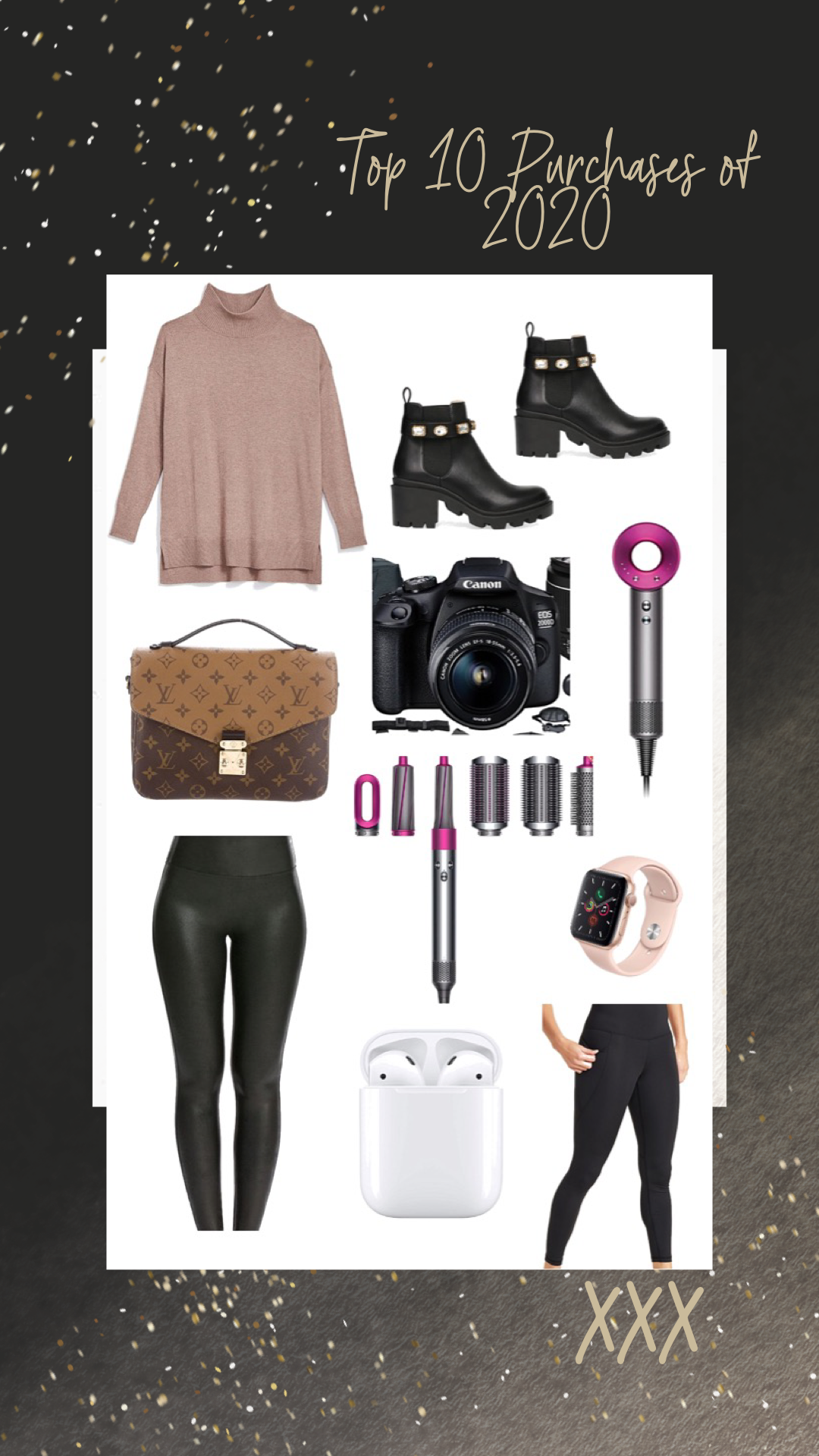 Happy New Year's Eve!
I'm rounding up some of my favorite items that I purchased this year. From fashion to beauty, there's a little something for everyone! I wish you all a safe and wonderful new year. Cheers to 2021!
Dyson Airwrap – This was a big purchase for me in quarantine and it didn't disappoint. The complete styler comes with curling barrels, two smoothing brushes, a round volumizing brush, and pre-styling hair dryer. The curls you can get from this device are beautiful and bouncy! I hope that you enjoy it as much as I did!
Dyson Supersonic Hair Dryer – This fast drying hair dryer is designed to protect hair from extreme heat and damage. This Dyson product is seriously so amazing and it helps to add shine and decrease frizz. The hot pink style of hair dryer is perfect to incorporate into your bathroom routine!
Canon Rebel T7 Camera – Since I learned how to use this camera in college, I figured that it would make blogging a little easier! This is a great camera and it comes with so many extras like different lenses, memory cards, and other camera accessories.
Louis Vuitton Metis Pochette Reverse Monogram Bag – This bag is so trendy and I've loved wearing it for about a year now!
Old Navy High Waist Powersoft Leggings – I've worn these leggings almost every day while working from home. They are so comfortable and the elastic waistband is great for running or walking during the day!
Spanx Faux Leather Leggings – I saw these leggings while browsing Instagram and they are so cute and stylish for the winter months!
Apple Watch Series 5 – This was a quarantine purchase and it's been so great for tracking exercise! I highly recommend getting this if you're looking to pursue new fitness goals in the new year.
Apple AirPods – These wireless headphones are so great for listening to music or working out!
LOFT Hi-Low Tunic Sweater – I ordered this sweater in the black and rose color. It's a perfect, thin turtleneck sweater to sport during the winter months.
Steve Madden Amulet Black Booties – This popular bootie is so adorable with the studs around the top of the shoe. It's a great dupe for Gucci boots!
I hope you enjoy all of my product recommendations for 2020! You can shop each item by clicking on the link in the product name. Happy shopping!
Xx, 
Megan