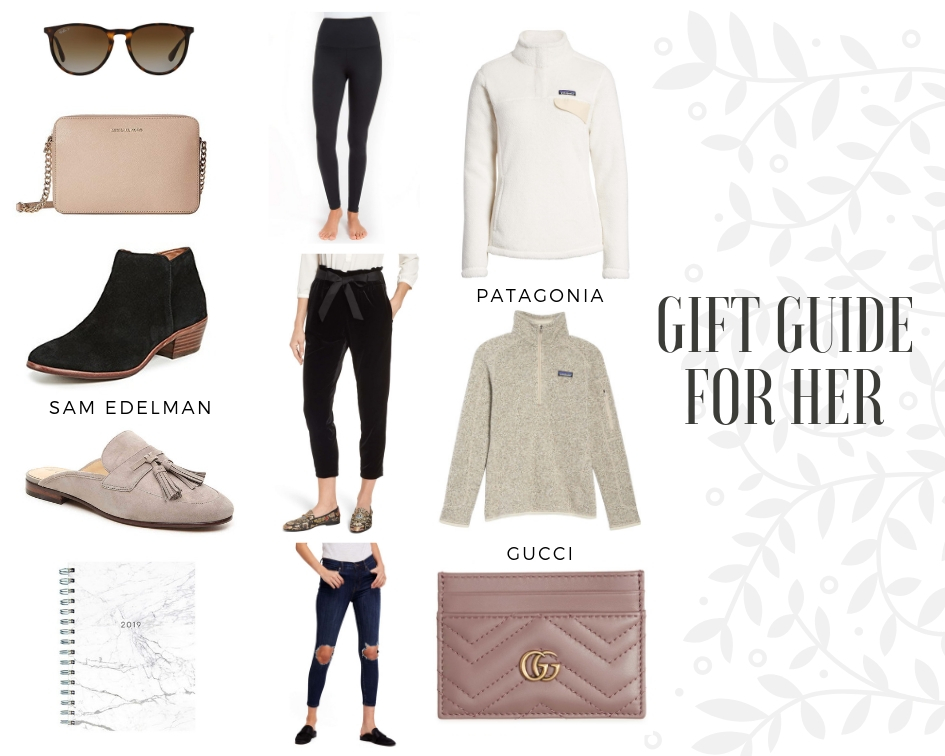 Ray Ban Sunglasses – I've worn these sunglasses for 3 years now and have loved them!
Michael Kors Purse – This purse is so versatile and its structure has held up great throughout the years.
Sam Edelman Booties – I love a good pair of black booties this time of year. These shoes are so comfy, too!
Sam Edelman Mules – These shoes are great for a girl on the go. Perfect color and fit!
2019 Agenda – An agenda is always a nice gift for someone who likes to plan out their upcoming new year.
Lysse Leggings – I love this brand of leggings because of the elastic waistband and structured fit.
Halogen Velvet Pants – This item is nice to have for upcoming holiday parties. Velvet is so pretty in the winter time. I can't wait to wear these pants on Christmas Eve! 😉
Free People Jeans – I love these jeans that I got a couple months ago. So stretchy and edgy!
Patagonia Fleece Pullover – So cozy! I love the white color and it's perfect for any athleisure look.
Patagonia Sweater Zip Pullover – Awesome color and a great item to add to your workout wardrobe.
Gucci Marmont Leather Card Case – I've always wanted to own a designer item! This little card case is so cute.
I hope you enjoyed my gift guide to help you Christmas shop this holiday season!
Xx,
Meg